Our Services
Serving Riverside County
For appliance repair in Moreno Valley, CA call on the experts:

* Fast Service
* Same Day Service
* Flexible Appointments
* Open 7 Days A Week
* Onsite Service
* Up Front Pricing
* Industry Leading Warranties and Guarantees
* Small Appliance Repair
* Kitchen Appliance Repair
* Large Appliance Repairs
* Washer Repair
* Dryers Repairs
* Stove Repair
* Oven Repairs
* Microwave Repairs
* Refrigerator Repairs
* Dishwasher Repairs
* Trash Compactors Repairs
* Garbage Disposals
* Wine Coolers
* Kitchen Exhaust Fans
* Heating & Cooling

Call us now at 951-279-8634 if you would like an estimate on our washer repair or dryer repairs.
About Us
Appliance Repair Moreno Valley CA
J.I.M. Appliance Repair in Moreno Valley, CA is dedicated to keeping your appliances up and running! We employ friendly and knowledgable major appliance repair technicians who have experience in both large appliance repair and small appliance repair. Our licensed and insured certified technicians offer dependable, affordable appliance repair for residential and commercial customers. J.I.M. Appliance Repair . . . "We would love to earn the right to call you our customer!" Your headaches and worries surrounding your appliances can be whittled away with our stupendous kitchen appliance repair services.

From the washer that won't spin to the air conditioner blowing hot air, we are appliance repair experts you can count on to get the job done right the first time. We focus on more than just washer and dryer repair and stove repair service; we repair all appliances, including garbage disposals, stoves and ovens, dishwashers, microwaves, refrigerators, and more. Our staff offers regular maintenance to keep your appliances in good working order and appliance repair 7 days a week, on your schedule! We understand the significance of your appliances; therefore, we will not leave you hanging. Trust our heating & cooling repair to keep your home comfortable and kitchen exhaust fan repair when the moment counts. We handle our wine cooler repairs and microwave repairs with complete professionalism. No volume of work we undertake is ever too impossible because we have the right tools and equipment at our disposal. Consider J.I.M. Appliance Repair in Moreno Valley, CA if you are seeking garbage disposal repair, trash compactor repairs, and dishwasher repairs!

If you're looking for expert appliance repair in Moreno Valley, J.I.M. Appliance Repair is here for you. Our services include refrigerator repairs, oven repairs and more. We offer same day service for appointments scheduled before noon. Since we are always in your area, we will not charge you travel time.

We Repair All Major Appliances and Brands!
Products
* Washer
* Dryer
* Stove
* Oven
* Garbage Disposal
* Air Conditioner
* Dishwasher
* Microwave
* Trash Compactor
* Heater
* Refrigerator
* Freezer
* Kitchen Exhaust Fans
* Wine Coolers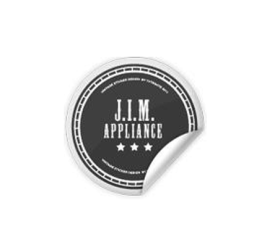 Appliance Repair Moreno Valley CA
---
Payment Methods
Master Card, VISA, Check, Cash